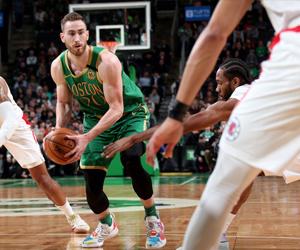 The 13-11 Boston Celtics will face the 13-12 Los Angeles Clippers at the Staples Center on Wednesday night. The Celtics and Clippers are both underperforming and struggling to string together a series of wins.
The Celtics are a talented team. They have a younger core of Jayson Tatum, Marcus Smart, and Jaylen Brown. Even though they have a good core, they have not won more than three games in a row this season. They have been inconsistent, and this is best evidenced by their last two games. Last night, the Celtics lost to the Los Angeles Lakers 117-102. The game before, the Celtics crushed the Portland Trail Blazers 145-117. Need I say more?
The Clippers are also a talented team but have been dealing with some injuries. Kawhi Leonard will miss most of the season and Nicolas Batum has missed the last few games because of COVID-19 protocols. The Clippers have also been very inconsistent this season and are 4-6 through their last ten games.
This game could go either way, but I think the Clippers will win it. They are playing a Celtics teams that played the night before, so they have one additional day of rest over the Celtics. The Clippers also have home-court advantage. The will, however, need to ride the hot hands of Luke Kennard and Marcus Morris Sr., but I would expect them to. If the Clippers depend on the the players that have been scoring a lot lately, they will win.
We acknowledged our performance tonight in LA and are turning the page to our next task at hand: the Clippers. pic.twitter.com/pHXDx3rBjd

— Boston Celtics (@celtics) December 8, 2021
Squatchpicks.com has a



2-star pick on this game. Click here to sign up!

The Squatchpicks.com simulation model, which simulates every NBA game thousands' of times, is up +31.45 units over the last three years. We have released 249 total games with 136 WINS and 113 losses for a win % of 54.62%. A $100 bettor of our NBA would have netted a profit of $3,145 and, a $1,000 bettor would have won $31,400. We have released only a handful of NBA games so far this season. Now is the time to sign-up and start winning.
| Title: Boston Celtics vs. Los Angeles Clippers Matchup Preview (12/08/2021)
| Author: Max Heering
| Date: Dec 8, 2021