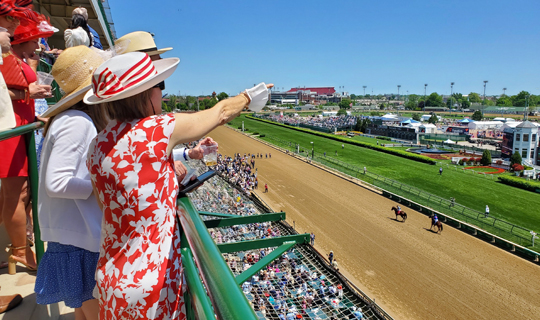 The Kentucky DerbyThe race is a Grade I stakes race for three-year-old Thoroughbreds, with a distance of 1.25 miles (2.01 km) and a total purse of $3 million. The race is also known as the "Run for the Roses," as the winning horse is draped in a garland of 554 red roses.
The Kentucky Derby is a major cultural event in the United States, with attendees dressing in fashionable outfits and sipping mint juleps, a signature drink made with bourbon, sugar, and mint. The event draws a large crowd, with an estimated 150,000 people attending each year.
Gates Open 9:00AM
Race 1
10:30am
Race 2
11:01am
Race 3
11:31am
Race 4
12:04pm
Race 5
12:36pm
Race 6
1:14pm
Race 7
1:56pm
Race 8
2:46pm
Race 9
3:40pm
Race 10
4:31pm
Race 11
5:27pm
Race 12
6:57pm
Race 13
7:55pm
Race 14
8:30pm
The Road to Derby ended in Lexington over the weekend! Here are the final top 10 standings.

Secure your 2023 Kentucky Derby access: https://t.co/WSogGjruul#DerbyExperiences #KyDerby pic.twitter.com/GTqyyXL4rO

— Derby Experiences (@DerbyExp) April 18, 2023
Click here to see the pick on your profile!